Overview:
• Vaccine circulation in each country generally passes through three or four levels: national/provincial, district, and health facility . Each level has a different emphasis on vaccine circulation tasks. The national level focuses on centralized storage and distribution to various regions. The district level generally focuses on the management of regional vaccine storage, the distribution of community hospitals and part of the inoculation work. The health facility level is responsible for the storage and inoculation of vaccines covering the community and outrage service to remote areas;
• Storage: From the national large -BOC storage, to the regional mini -80C storage, with all capacities to support various demands;
• Transportation: Active transportation freezr and refrigerator to use at -25C or 5C;
• Temperature monitoring: In order to ensure the safety of vaccine temperature , Duling solution is also equipped with a remote temperature monitoring system;
• Through the storage + transportation + data collection, it is possible to guarantee the storage and transportation
of the vaccine at all levels, and the constant detection of the vaccine temperature and inventory, providing a data basis for decision-making;
Demand&Solutioon
-----National I Provincial /District Level
The function of national or provincial level EPI is to store the vaccine in a centralized area and organize the vaccine supply to district level, then the provincial level transport the vaccine to health facility.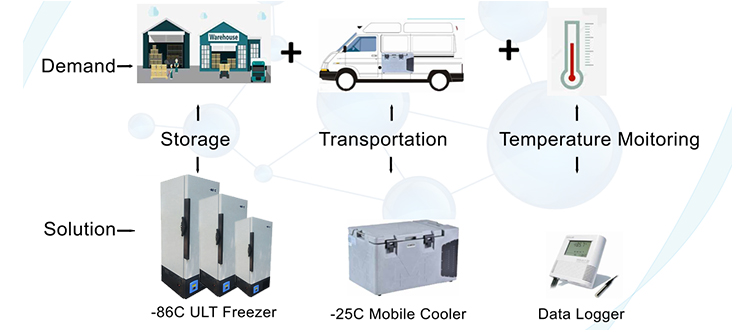 For Vaccine Storage Solutiion
-----DULING ULT FREEZER